THE REST
Alex
Roadtrip #1
#2 / #3 / #4
#5 / #6 / #7 / #8
NYC 03 Marathon
Brag Book
Tidbits
Old News
PICTURES
Apartment
Wedding
Honeymoon
Roadtrip


FRIENDS' SITES

*Life in Calvander
*Beckers of TN
*Harrisons
*Mamlin.com
*Andrea Dixon Photography
*John G Photo
*Hobby Masters
*SevenSisters
*A Salmon's Blog
Amie's Work
Niles Work -N/A
NAA News

The Latest from Niles, Amie and don't forget Alex and Olive!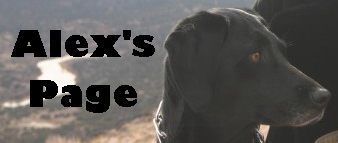 New Puppy!

I am so excited to introduce you to my baby sister…Olive! She was about 11 weeks old and came from the Animal Shelter in February. Check out pictures here.

Love, Alex
Friends and Family come to visit

Wow have we been busy! In the first 2 months of our big city life we have had four (yes four) sets of visitors!

Beginning the day we moved in until right before Alex's surgery, and it's been great. And we expect three more sets in the next few weeks.
Movin' on up...

...to the westside...after many years of trying, we have achieved our goal of moving to New York! As of April 27th we are be the proud owners of a tiny co-op (code for apartment) in New York City's Upper West side. We are very excited. Alex is excited that the apartment has huge windows and is only one block from Central Park. For those who want to visit, you should be excited by our fold-out couch and proximity to 3 subway lines that will easily take you to any tourist attraction you should desire. And with three airports to choose from, there should be no excuses – come visit!
Check out this article about the neighborhood we now live in.
Wedding and Honeymoon

Well we had a FABULOUS time at the wedding - it was everything we could have hoped for.

Then we were off to Greece for the honeymoon, which was great, too.

Check out re-caps and photos here.

Thanks to everyone who came - we enjoyed seeing you.
New Job!
Amie has a new job with the NHL Headquarters! As Database Manager, she'll send all the emails for NHL.com, and help run the on-line promotions. The office is in NYC right across from Radio City Music Hall. It's very exciting - Hockey Rules!
Celebrate Good Times

Memorial Day weekend, we had a fabulous party at Amie's Dad's house to celebrate the engagement with some friends and family (seven parents, several brothers, a sister, a grandmother and endless cousins and friends). The next day, we got to attend an Eastern Conference Finals game - the Canes won to complete the weekend!




We're engaged!

Yup, you read that right. After only six and a half years we decided to bite the bullet and get married. We are very excited about it. Check out our wedding webpage for all the info and details. Amie and Niles Wedding Website.

Au revoir, Andrea!

Just a year after meeting our dear friend Andrea, she is leaving us! She is She is pursuing a lifelong (well, almost) dream of living in Europe. She has a job as a nanny for a family in Paris, taking care of their four-year-old daughter and one-year-old son. She hopes to find some freelance photography work once in Paris She works a lot but has weekends off. This will be an amazing chance to TRAVEL, learn French, and have some fun. We miss her terribly but the adventurers in us applaud the "lemonade" she has made out of totaling her car (the incident that inspired going after the dream). Pictures.
Caitlin has returned from Hawaii - we were able to visit with her and new friend, Jake over the holiday. Also got to spend time in Chapel Hill and Raleigh with Amie's family and our friends. The long vacation was over too quickly though and now it's back to work. We weren't able to see Burke who is teaching snowboarding in Lake Tahoe, CA!

New Friends, Old Friends

Leslie and Rob visited from NC. We were able to spend a chilly Sunday in the City with them, catching up with Leslie Ray (Niles' long-lost cousin) and getting to know Rob.

Earlier in the month, Niles made friends with another cute-but grumpy creature, when Disney Live stopped at his building after playing Thanksgiving weekend at Amie's.